We are a lighting and furniture design production firm. Our Commercial& Residential Lighting fixtures are made of the finest materials and is individually handcrafted by our artisans.
From brightly colored glass reflecting in your place, to the intricate web of soft dancing patterns on your ceiling created by the filigree of iron work on an ornate lantern. Our selection of lamps was becoming too large to be displayed easily in one list. We have divided our lanterns into sections, to help you find the right ones for your place.
In addition we feature an extensive collection of home decorating ideas, together with tips and advice, from wiring a Moroccan lantern to painting your living room, and we also deliver worldwide, and will happily quote for international sales.
We hope you will enjoy the quality and choices of the products we have selected for your store or client.
MOROCCAN LIGHTING FIXTURES
With its vivid colors, Moorish design, elaborated geometric forms, exotic designs, and unique raw materials; Moroccan Lighting is the most recognized symbol of Moroccan decor. This truly luxurious work of refined craftsmanship will leave you and your guests in a state of admiration.
MOROCCAN CHANDELIERS & LANTERNS:
What says "Welcome" more than a giant glass chandelier?
Stained-glass Moroccan lamp with carved motives can be a bolder more extravagant way to spice up your space. With Moroccan lamps, also referred as Moroccan lanterns. You can introduce a little eclectic flair in virtually any existing concept you may already have.
Stained-glass lanterns create geometric Moorish patterns wherever the light shines through the panes of glass. Therefore, these two different types of Moroccan lighting will create different moods. Pierced metal hanging lantern. These really come alive when lit casting a wonderful array of shadows.
Our Moroccan lighting clients based in California, New York, Florida love our items.
Medina lights are handmade by our local artisans in Morocco using century-old traditions passed from father to son. They also come in different shapes, Moorish designs, and sizes. The colored glass of these lanterns comes in different colors that will either match any home decor or accentuate it. The light glowing through the hand-carved metal magically reflects through the Moroccan-style colors, making walls and ceilings breath-taking.
If you already have wrought iron or rustic furniture, then get one of those cool hand hammered Moroccan chandeliers from MEDINALIGHTS.COM. A Moroccan Chandelier is the perfect option that would delightfully enhance that sense of magic and warmth that only Moroccan chandeliers can accomplish.
Simply suspend the lantern from a ceiling hook and drop a normal pendant light fitting through the 'neck' of the lantern to create a myriad of symmetrical shadows in your living room or conservatory. Each Moroccan lantern or Moroccan chandelier has a concealed, hinged door for ease of access and is available with either blue or pink glass panels. Lovely quality and a unique design available exclusively from MEDINALIGHTS.COM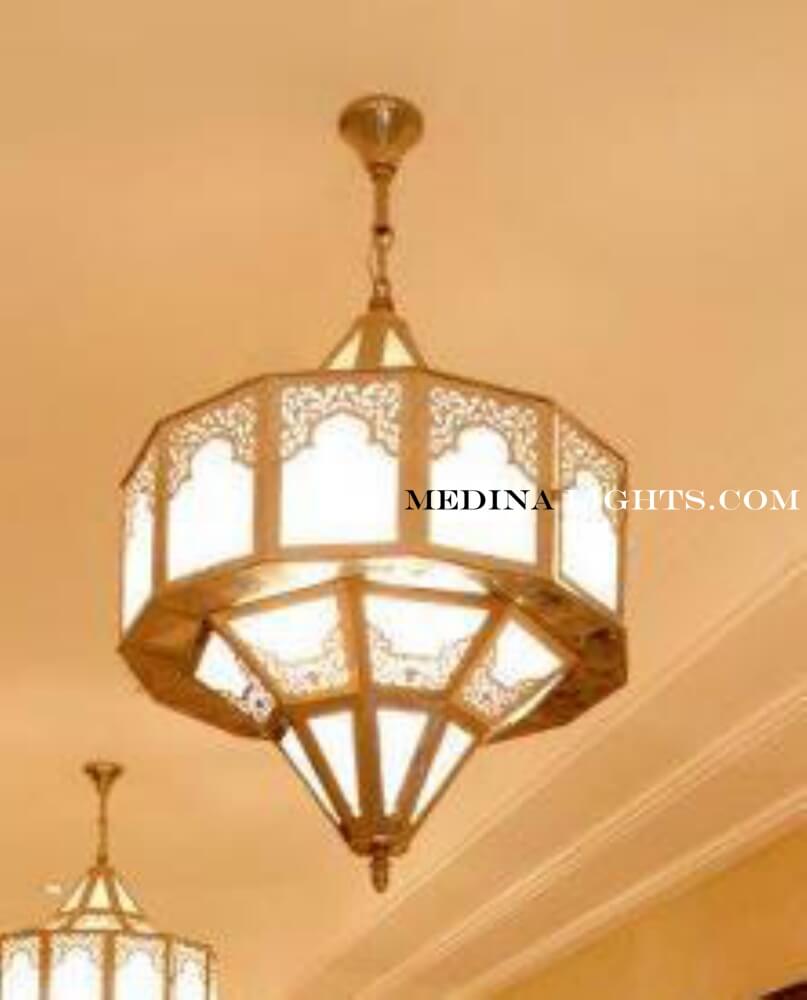 Moroccan chandeliers with stained-glass:
Nothing conjures up the feeling of Medina nights, quite like a beautiful Moroccan lantern, with the jewel like colors dancing around your room and the soft intricate patterns of light cast on the ceiling. We have pulled together wide range of Moroccan lanterns with glass, including brass, silver effect, iron and antique effect.
Moroccan chandelier with no glass:
MEDINALIGHTS.COM have a wide range of Moroccan lanterns without glass, some of these are ideal for a patio and will have you transported to the Riyad in no time. Others will create a magical effect with a myriad of patterns cast on your ceiling. Our selection of lamps includes iron, brass and silver effect.
Buy Moroccan Lighting fixtures from, Moroccan Lighting store, medina lights!